Gather around, drivers! Seems like your vehicle has been sitting in the junkyard for a while; only because your machine is missing what it needs the most to move – the tires. Of course, you can buy some random tires from the market but for surfaces like sand, sugar sand, and mud, it is way too important to choose the best sand tires for trucks or the best truck tires for beach sand.
Imagine yourself driving on the beach and suddenly, you and your vehicle start to wiggle out of nowhere and you find no traction between your tires and the surface – is there anything worse than that? No matter what type of vehicle you're driving off-road, you'll need the best tires for such adverse situations. To make sure that you don't get cheated while buying one; this article will provide you all the necessary information regarding the issue including a buying guide for the best sand tires for trucks. We expect you to read the whole article thoroughly so that you don't remain a confused trucker.
---
Best Sand Tires for Trucks
Our recommended list for 2021
Best overall Sand Tire
BFGoodrich® All-Terrain T/A® KO2®
This is the must-have equipment for the serious off-road enthusiast when conditions require extreme traction and toughness
Best off-road performance
Goodyear Wrangler DuraTrac®
Great tire for rugged off-road terrain that still offers a quieter ride on paved roads. The bold aggressive tread design is great for work truck towing and hauling.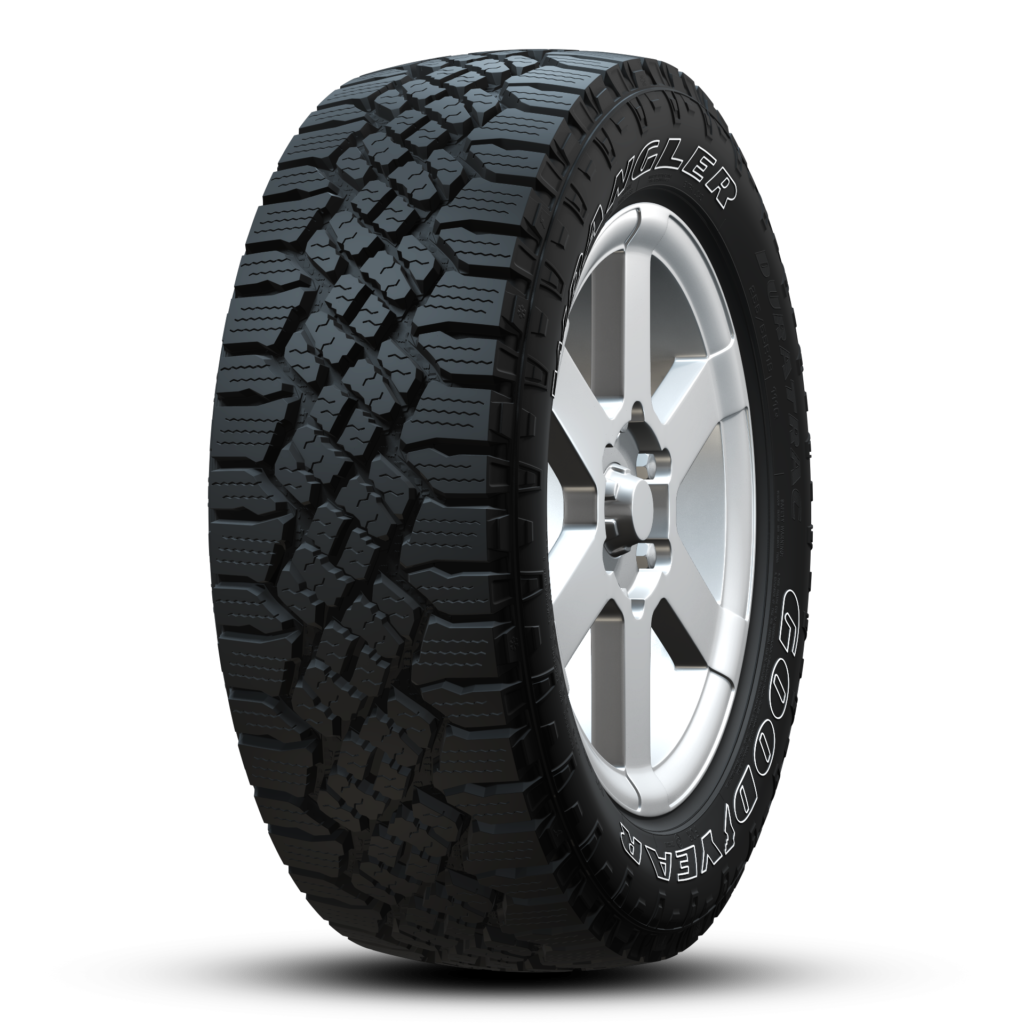 Most versatile off-road Tire
Mickey Thompson Baja MTZ P3
Proprietary compound and innovative design delivers versatile mud terrain performance that provides excellent traction both on road and off road.
Best traction for mud terrains
NITTO Terra Grappler® G2
The balanced off-road and on-road performance will get you to your destination with confidence while increasing the longevity of the treadwear.
most durable Sand Tires
Yokohama Geolandar M/T G003
Engineered with rock-solid GEO-SHIELD™ technologies from casing to tread. Great traction with crushing performance, intimidating looks, and outstanding tread life.
Best value for money Sand Tires
Falken Wildpeak AT3W
An optimized tread design combined with a silica tread compound enables the A/T3W to excel. Engineered for adventure, any time and in any weather.
---
Buying Guide for the Best Sand Tires for Trucks
---
In terms of buying the perfect tires, you must take the necessary information into account. These include the size and width; tread pattern, tire deflation, durability, and many more. In order to get your desired set of tires, we suggest you go through this section very carefully. This part is more like the "Do(s) and Don't(s)" you should know while buying one.
Size Does Matter!
First of all, you should know that sand tires are specifically designed for vehicles like trucks and SUVs to run smoothly on the sandy surface. The size of tires may not match with the regular tires that we see in day-to-day activity. Sand tires are wider and this ensures premium grip. Hence, you should look for the size that suits your vehicle first.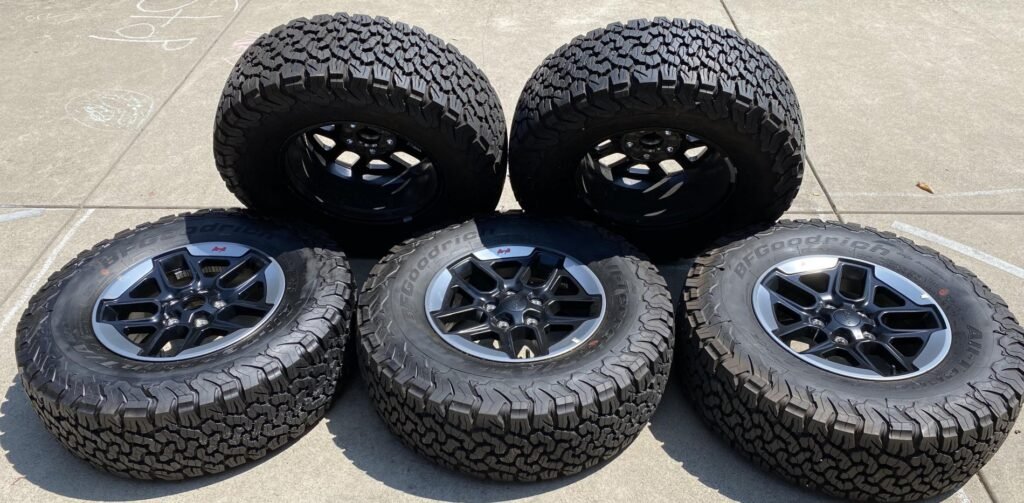 If your truck is not lifted, you can go for a nice 33″. But when it's lifted, you should increase it to 37-38″ but not more than that. It differs from vehicle to vehicle. Sand tires for wagons are ideal at the range of 15″ to 18″. Bigger tires can perform well but keep in mind that the center of gravity might cause some problems if you chose a bit too bigger tires. Because, the higher the center of gravity is, the more of the imbalance occurs.
Treading the Way
Another important fact is the pattern of treads. Treads help you to dig deep while running but our focus is not to dig but to run smoothly on the sandy surface. Remember that a complex tread pattern does not help your vehicle to run properly even though they look attractive. For tread patterns, you should not look for fancy ones but those which will help you to move forward than digging deep – it's not a drill machine after all!
Keep an Eye on the Side
Although some don't find it useful enough, the sidewalls of the tire are another crucial factor. It is also a silent catalyst for the overall performance of the tire. Experts suggest that the tire which has higher sidewalls than regular helps run smoothly and ensures maximum grip. Now, here is a thing to take into account – if your tires are short, it is almost impossible to make them squishy and if you force it too much, you might end up damaging the rims. Again, if they are very tall, it is also hard to maintain elasticity and they might end up being like sponges. So, chose tires with higher sidewalls so that it is easy for you to customize. Manufacturers like Bfgoodrich produced a specialized sand tire that has higher sidewalls. You can have a quick look at those tires if you are in a hurry.
Check the Patches
To know if the tire is good for sand, you must look into the contact patch of the tire. Contract patch refers to that particular part of the tire which has direct contact with the surface on which it is running. Wider tires have a larger area of contact and it helps the tire to acquire more of the surface to ensure premium grip and friction. If the tire is wide enough, the larger the contact patch is. On the other hand, if there is larger pressure of inflation, the contact patch is smaller. While buying one, try to be a bit picky in these terms.
Deflated Tires – the Bummer
Last but not least for selecting the best sand tires for trucks is tire deflation. Before rushing on the sand, make sure that your tires are deflated. The reason is simple – if you have deflated tires, it is said that you will float over the sand. We have mentioned earlier that our focus is not to dig deep into the sand but to be quick and firm at the same time. If the tires are deflated, they become larger and wider in the contact patch which helps to avoid sinking.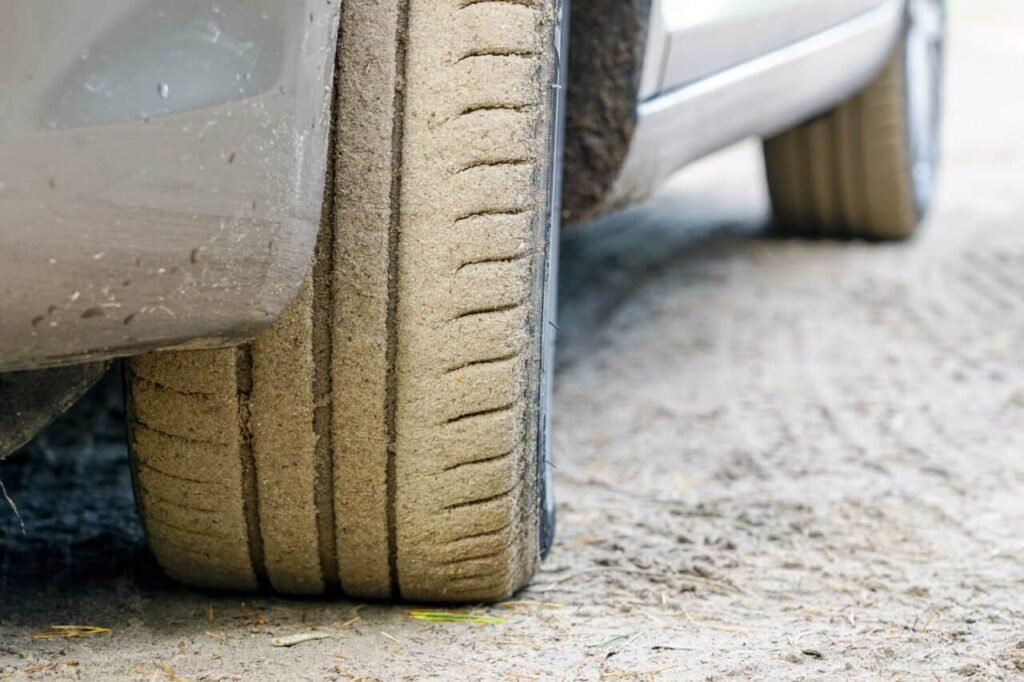 ---
product block
---
Some Common FAQs
---
What are the best truck tires for sand?
Some of the top-rated truck tires include the fabulous Mickey Thompson Baja ATZ P3, Falken Wildpeak AT3W, BFGoodrich All-Terrain T/A KO2, and Continental TerrainContact A/T. There's also the Mickey Thompson Deegan 38, Pirelli Scorpion All Terrain Plus, and Michelin Defender LTX M/S that you can check out.
Are wider tires better for sand?
No, it's a myth. Wider tires never help in the sand. To obtain the same footprint as a narrower tire, a wider tire will need to flex less. The tire bead is generally the limiting factor. As a result, a broad tire may not be beneficial.
Are all season tires good in sand?
All-season tires are made to be utilized all year and give a balance of driving on a variety of conditions, including dry pavement, rain, and snow. However, they are not meant for off-road use. 
Are MT tires good in sand?
The MT is more suited to mud and rough terrain than it is to sand. In the sand, the AT tire performs admirably, and driving with less power will be more pleasant.
What PSI should my tires be on sand?
If the sand is really soft, powdery, and dry, you can safely lower your tire pressure to 15 or 16 psi while avoiding damage. Although there are reasons that may cause you to wish to adjust this level up or down, this is the suggested tire pressure for most automobiles in the sand. There are, however, a number of variables that influence this. In rare circumstances, for example, the tire pressure might drop to as low as 12 psi.
How do you lower tire pressure in sand?
Place a brick 1 cm away from the side of the rear tire and place your loaded vehicle on a flat area. Deflate the tire until the sidewall is barely touching the block, and then take a pressure reading. When decreasing your tire pressure for sandy driving, use this level as a reference point.
Can a 2wd truck drive in sand?
You can definitely drive a 2wd car on the sand. A 2WD vehicle, however, can't compete with all the beaches or deserts. You must lower your tire pressure and maintain the required speed to maintain propulsion throughout the sand. However, a 2wd car has a far higher chance of becoming stuck in the sand than a 4wd vehicle.
Is sand bad for tires?
Sand, like sandpaper, is extremely abrasive. Off-road surfaces, in general, are at least as corrosive to tires as asphalt. If you're rotating tires and obtaining any traction aka resistance to tire rotation, you're tearing the rubber off tires.
Does driving on the beach ruin your truck?
While it may sound fun, driving on the beach is detrimental for your truck in different ways. There's the sand that can cause both external and internal damage, even the sun and its extreme heat are bad for your vehicle. It's best to prepare accordingly before heading out, that way it can ensure minimal damages.
---
Final Verdict
---
Driving has always been a technical and calculated skill. To perform well behind the wheels requires not only precise action but also ideal equipment. Sand has always been a challenging surface to drive on. For that, your tires have to be just perfect to keep the perfect balance. There are many options out there in the market. But you should choose the best sand tires for trucks that fit your vehicle the most to get the 'hot knife through butter' feel while driving.
---